Telangana faces deficit as paddy, cotton, maize sowing takes a hit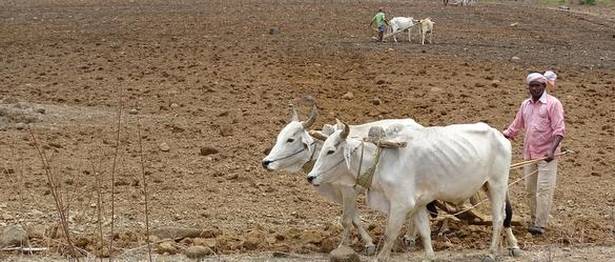 With the monsoon playing truant and causing a deficit of 36 per cent in rainfall, Telangana reported very poor sowing in June. Due to the deficit, about 23 districts out of a total of 33 districts covered less than one-fourth of the normal sowing area.
In 20 districts sowing took place on just under 60 per cent of the area normally covered during the month. Three of those districts (Adilabad, Mancherial and Mulugu) have received almost no rainfall so far.
Paddy, cotton, maize and soya -- the major crops in the kharif season, reported a very poor pace of sowing. Other important crops such as redgram, sugarcane, turmeric and castor, too, reported delayed sowing.
The lack of rain also led to a steep fall in the major reservoirs. The aggregate level of water in all the major reservoirs stood at 191 tmc as against 229 tmc in the same period last year.
These conditions have a direct bearing on the pace of sowing. According to the latest reports, the sowing covered an area of 4.50 lakh hectares by the end of June. This is less than half of what should have been covered by now.
Contingency plan
With sluggish sowing threatening to impact the kharif prospects for farmers, the Telangana Rythu Sangham has asked the Government to come out with a contingency plan. "The Government should be ready with alternatives. They should encourage millets and soya," T Sagar, Secretary of the association, said.
"Farmers must be waiting for an opportune time," an Extension Officer said.
Forecasting the late arrival of monsoon rains, the State Government had issued an advisory last month, asking the farmers not to go in for early sowing. It said the farmers could wait for a month more. Sporadic rains were not be mistaken for monsoon rains, the government advisory had said.
Cotton farmers have covered an area of 3.44 lakh hectares so far as against the as-on-date average of 5.14 lakh hectares. In a normal season, cotton is grown on 17.25 lakh hectares.
The same is the case with paddy, which saw sowing only on 14,600 hectares as against 22,500 hectares.
Maize, an important crop for the poultry industry, is among the worst hit. Sowing was reported on only 15,000 hectares as against the as-on-date average of 84,000 hectares. The State grows maize on five lakh hectares.
Drought
Farmers' organisations have alleged that the State has been shying away from declaring a drought in the last three years despite poor rainfall.
"They should prepare drought reports and send it to the Centre to get assistance," Sagar said.
Source: https://www.thehindubusinessline.com/economy/agri-business/telangana-faces-deficit-as-paddy-cotton-maize-sowing-takes-a-hit/article28263816.ece
Poultry News
India, DGFT has banned export of DORB (Deoiled Rice Bran) till 30 Nov 2023. read more..