Poultry farmers welfare board seeks price justice from Govt Of India
Poultry farmers "broilers" welfare board a registered poultry welfare body wrote a letter to Shri Ram Vilas Paswan Ji, Honorable Minister of consumers affairs, food and public distribution, seeking price justice for poultry farmers of India. Mr. Avnesh Ramesh Bhai Patel, the founder member of Poultry farmers welfare board, told eggchi.com that poultry farmers in India are left with only option to quit their livelihood of poultry farming due to high maize prices.
In the letter, the welfare board has requested Govt Of India, to intervene in the matter of rising maize prices. In India, there are around 50 lakh poultry farmers who are in poultry business since 1950 and due to the rising maize price, the poultry farmers are failing to deposit their bank installments and are getting bank corrupt. In the last 6 months, poultry farmers are forced to shut down their farms due to the sudden rise in the maize price from Rs.1250 per quintal to Rs.2250 per quintal.
Maize is used as 60% in the poultry ration and due to the increase in MSP of maize price by Govt of India for the year 2018-2019, the feed prices have gone sky high. They alleged that big stockists and hoarders have started hoarding maize seeing the further uptrend in maize prices. They further said the there was an increase in maize production from 20.24 million tonnes previous year to 21.47 million tonnes a current year.
The founder members of the Poultry farmers welfare board are Mr.Ajay Kumar Tiwari, Mr. Avnesh R. Patel, Mr. Aslam Jaidi, Mr. F M Sheikh, Mr. Gulam Mohd Bhatt, Mr.Mohd Israil, Haji Javed Ahmed Siddiqui, Sh. Kamal Kishore Arora, Dr. Manoj Shukla, Mr.Sandeep Kapoor, Mr. Sanjay Sharma, Mr. Shyam Singh Jaat.
Copy of the letter is below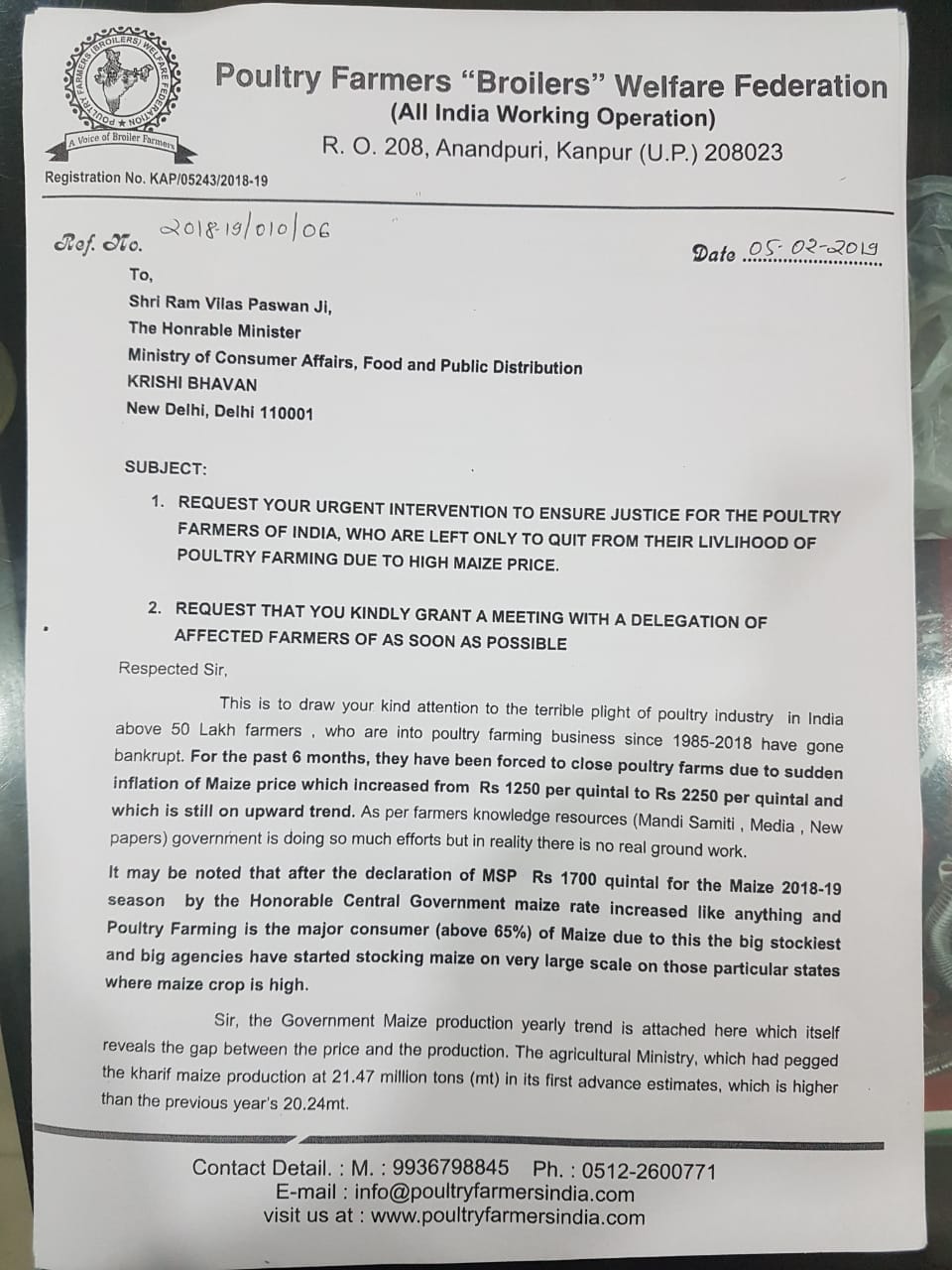 Poultry News
India, DGFT has banned export of DORB (Deoiled Rice Bran) till 30 Nov 2023. read more..